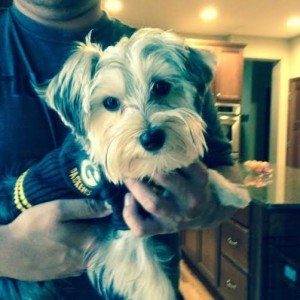 WE PURCHASED AN ADORABLE SHORKIE PUPPY FROM BETHANY BACK IN MAY. HE IS THE LOVE OF OUR LIFE AND TRULY A GREAT DOG. WE COULD TELL FROM THE MOMENT WE BROUGHT HIM HOME THAT HE WAS WELL TAKEN CARE OF AND WELL SOCIALIZED. BETHANY WAS VERY HELPFUL AND KNOWLEDGEABLE. WE ARE SO THANKFUL WE FOUND HER AND ARE LOOKING TO POSSIBLY GET ANOTHER SHORKIE ALONG THE WAY OT JOIN OUR FAMILY, THIS IS THE ONLY PLACE I WOULD GO!!! THANKS AGAIN FOR EVERYTHING!!!
Bethany at TinyTails is great! I had looked around at a couple of other places and this was by far the best! I brought home a Maltipoo and named him Finn. The night before I picked him up my family decided to adopt his brother as well! They named him Teddy and they are both just the sweetest puppies! They love to chase each other around my living room and play fetch! And when they get tired they both curl up in my lap and fall right to sleep. They do great around other dogs and are very social! If you are looking to bring a new little puppy home with you, this is definitely the place to go!
Thanks again!
Abby doing good just having to work on her going on the potty pad sometimes. She loves running in my yard Im trying train for both home & outside. I am so happy to have her she is so adorable, she is loved so much  I am so glad I found your website online She is blessing in my life help me keep me feeling wonderful.   THANK YOU SO MUCH BETHANY & KYLEA YOU TWO ARE THE GREATEST. I will send a pic of her so you can post on your site okay, again thank you for my precious little Abby.
The puppy that we got from tiny tails is such a blessing to our home! He is so well tempered and we just love him! We can easily tell that he was taken very good care of! Thank you so much for such an amazing puppy!
It is my pleasure to give 4 paws up to the people of tinytails for a job well done. My little guys name is Sinatra and is 10 weeks old now.I first saw him through ebaypets when he was just 4 weeks old but had to have him.It was a long few weeks waiting for him, but it was made so much easier, because of the outstanding communication and weekly progress reports and photos I received.On top of that my ride to pick him up fell through and tinytails didn't hesitate to offer me a wonderful solution, of bringing him to me for a fee that put no extra money in their pockets.Now that he's here and we are getting settled I don't know what I'd do without him.He has already learned four commands and is extremely smart.He came to me with just two weeks of puppy pad training and I have yet to find any surprise piles.These are some fantastic breeders who care about their animals as well as the people they are homing them to & and I'll be sending people their way because of it!!!!Way to make a girl happy tinytails! Anna M

We have a new member of our family and I couldn't be happier. I contacted Bethany over a month ago regarding the puppies she had for sale through email. She got back to me right away providing me her phone number. We talked for quite some time and she answered all of my questions. She kept me updated with how he was doing until we picked him up. She was even willing to meet me since we lived 3 hours away from her.

I couldn't be happier with GIZMO and would recommend these breeders to anyone!!!!

Thank you Bethany from the bottom of our hearts.

The Poremba family

YES YES YES I JUST GOT THE GREATEST CUTEST FUNNIEST LIL GUY EVER WHOM MY WHOLE FAMILY HAS FALLIN IN LOVE WITH THANK YOU TINYTAILPUPPIES WE THANK YOU AND YOU ARE VERY MUCH APPRECIATED FOR THE HEALTHY HANDSOME ADDITION TO OUR FAMILY!!!!!!!!!!!!❤️❤️❤️❤️
we are very happy. And grateful to Tiny puppies tails. our puppy is beautiful and healthy. And your attention is excellent. Thank you for traveling 2 hours to give it to me
We just purchased a teacup yorkshire terrier from Bethany, and absolutely love him! Bethany is very professional and knowledgeable. She cares for her puppies and took very good care of our little "Cooper." He was the only one of the litter which was a bit worriesome for us initially but Bethany did an outstanding job with him as we have had him for only two days, and he is adapting wonderfully – thank you to Bethany for taking such great care of him and getting him ready for us!
We are just writing to say how pleased we are with Max. He is a sweet dog who  we all have grown to love in the 3 weeks we've had him! You have answered any questions we've had and have been awesome! Thank you for a great experience and a happy, healthy fur baby :)~The Pembles
I will definitely pass your name along to anyone looking to purchase a puppy! In fact, we are already looking to purchase another one from Bethany, and we've only had ours for two days.
                     Thank you again, Bethany! We're so happy we found you!
                                             Scott and Kim Douglas
Tiny tails is amazing! I found Bethany on craigslist and was a little leary on buying just because there are so many scams out there. Bethany was great getting me all her info and assuring me she was legit. I highly recommend her and I already have to 2 people! We are absolutely in love with our new morkie Kato and he has adjusted to our household fabulously.  Thank you again Tiny tails! ~Jamie and Desi
We are so happy with our little guy. He is the sweetest puppy. Our other dog just loves him, they play all the time. I am so happy that Tiny Tails found it in their heart to let us become his forever home.~Buddys new mom.
I wanted to take a few to tell you how happy I am with my new little girl. She is absolutely adorable!

 Thank you so much from driving 3 hours one way to drop 

 her off I really appreciated it!!!!!    ~Amanda A.
Just wanted to let you know, that the good friend of mine that got a female pup from you for his daughter is totally happy with her! They just love her to death and she is spoiled rotten let me tell you. So thank you so very much! keep up the good work  ~ Laura
Very happy and excited with our new addition tonight!! Thank you for the very heathy puppy!

~CJ.
We had a great experience with Tiny Tails! We love our new puppy. I would definitely recommend getting a puppy from them! ~Alisha W.
I just got two of the cutest puppies ever!!! Thanks sooo much

~Bree
I just got myself a new bundle of joy from you. I named him Scruffy. What you do is a wonderful thing. With the great advice you have given me I feel confident that I can take care of Scruffy!!! I will tell anyone that will listen about your program. Thanks again for everything

~Tim R.
Thank you so much for all you do. I know you are wonderful with your puppies. I'll keep watching and when my situation gets better, this will be the place I get my puppy from. I'd recommend you anyone looking for a great dog~Betty
Please check out our "Sold Puppies" page to see recent puppies purchased from us!